Soundcheck Magazine: Photo from Antone's 36th Anniversary Show
Soundcheck Magazine: Photo from Antone's 36th Anniversary Show

Andy Pareti of Soundcheck reviews Gary Clark Jr.'s July Antone's Austin 36th Anniversary show.

Antone's, the spiritual heart of Austin's live music scene, celebrated a 36th birthday on Saturday that was ushered in by a colorful trio of young Texas musicians, led by legend-in-the-making, Gary Clark Jr.

Of course, not to be outdone was Clark, who is fast warranting the buzz that constantly surrounds him. Starting off his set with a slow, delta blues burn, he abruptly led his band into a towering inferno of acid rock and heavy, Zeppelinian rock riffs. The band was technically top notch, continuously building from a rumble into a monolith of plodding bass rhythms, surreal slide guitar jabs and solo after cauterizing guitar solo from Clark himself. Clark's guitar work wouldn't exactly be best described as swift and dexterous, like a Vaughan or a Jeff Beck, but rather precise and patient, articulating every twist and turn, savoring each and every note. A better comparison would be Eric Clapton, or even Jimi Hendrix at his more spaced-out moments (the latter's "Third Stone from the Sun" was even visited towards the end of Clark's set).

Blues music could be considered a dangerous path for a young musician today. It's not exactly what the kids are listening to, and many extremely talented bluesmen and women wind up settling – often unfairly – into the jam band circuit due to the instrumental dexterity and musical adventurousness that blues music sometimes allows. The few bands that have actually broken into the mainstream with blues in their briefcase have done so by breaking the tradition up into chewable, bite-sized portions – the pop gloss of The Black Keys, the nostalgic garage rock of The White Stripes – but Clark, like maybe no other musician I've seen in recent memory, has the real ability to scoop up the blues, broken and beaten over the years by more marketable styles, and carry it to the mainstream precipice for all the world to see, in its true, indigenous form. When he does this, the people will be willing to receive it. As Saturday proved, they've already started to.

See photos from the show and read the entire article at Soundcheck Magazine
Andy Pareti of Soundcheck reviews Gary Clark Jr.'s July Antone's Austin 36th Anniversary show.
Antone's, the spiritual heart of Austin's live music scene, celebrated a 36th birthday on Saturday that was ushered in by a colorful trio of young Texas musicians, led by legend-in-the-making, Gary Clark Jr.
Of course, not to be outdone was Clark, who is fast warranting the buzz that constantly surrounds him. Starting off his set with a slow, delta blues burn, he abruptly led his band into a towering inferno of acid rock and heavy, Zeppelinian rock riffs. The band was technically top notch, continuously building from a rumble into a monolith of plodding bass rhythms, surreal slide guitar jabs and solo after cauterizing guitar solo from Clark himself. Clark's guitar work wouldn't exactly be best described as swift and dexterous, like a Vaughan or a Jeff Beck, but rather precise and patient, articulating every twist and turn, savoring each and every note. A better comparison would be Eric Clapton, or even Jimi Hendrix at his more spaced-out moments (the latter's "Third Stone from the Sun" was even visited towards the end of Clark's set).
Blues music could be considered a dangerous path for a young musician today. It's not exactly what the kids are listening to, and many extremely talented bluesmen and women wind up settling – often unfairly – into the jam band circuit due to the instrumental dexterity and musical adventurousness that blues music sometimes allows. The few bands that have actually broken into the mainstream with blues in their briefcase have done so by breaking the tradition up into chewable, bite-sized portions – the pop gloss of The Black Keys, the nostalgic garage rock of The White Stripes – but Clark, like maybe no other musician I've seen in recent memory, has the real ability to scoop up the blues, broken and beaten over the years by more marketable styles, and carry it to the mainstream precipice for all the world to see, in its true, indigenous form. When he does this, the people will be willing to receive it. As Saturday proved, they've already started to.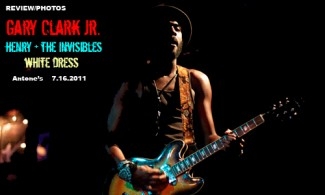 See photos from the show and read the entire article at Soundcheck Magazine
[{"parent":{"title":"Get on the list!","body":"Get exclusive information about Gary Clark Jr. tour dates, video premieres and special announcements","field_newsletter_id":"7811414","field_label_list_id":"6518500","field_display_rates":"0","field_preview_mode":"false","field_lbox_height":null,"field_lbox_width":null,"field_toaster_timeout":"60000","field_toaster_position":"From Top","field_turnkey_height":"1000","field_mailing_list_params_toast":"&autoreply=no","field_mailing_list_params_se":"&autoreply=no"}}]