Win a pair of 3 Day XPoNential Music Festival Passes
Win a pair of 3 Day XPoNential Music Festival Passes

On Friday July 22, Gary Clark Jr. performs at the XPoNential Music Festival in Philadelphia Wiggins Park on the Camden Waterfront

Enter to win a pair of 3-Day Member's Festival Passes. Member Passes include access to the Members Only area, complimentary non-alcoholic beverages and special Meet and Greats with the artists.

Send an e-mail to gcjwbr@gmail.com with the subject XPoNential Music Festival for your chance to win. Please include your full name, email address and zip code in the email.

The winner will be chosen on July 20th. Good Luck!

Attending this event? RSVP on Facebook

Artist confirmed to perform at the XPoNential Music Festival this year include
• Emmylou Harris
• Keb' Mo'
• Citizen Cope
• Clap Your Hands Say Yeah
• The Smithereens
• Ben Folds
• Shemekia Copeland
• Booker T.
• Joseph Arthur
• North Mississippi Allstars Duo
• Ted Leo and the Pharmacists
• Ra Ra Riot
• Hayes Carll
• Dar Williams
• For a full list and set times visit XPN.org

Special thanks to our friends at XPN 88.5

For contest rules please click here
On Friday July 22, Gary Clark Jr. performs at the XPoNential Music Festival in Philadelphia Wiggins Park on the Camden Waterfront
Enter to win a pair of 3-Day Member's Festival Passes. Member Passes include access to the Members Only area, complimentary non-alcoholic beverages and special Meet and Greats with the artists.
Send an e-mail to gcjwbr@gmail.com with the subject XPoNential Music Festival for your chance to win. Please include your full name, email address and zip code in the email.
The winner will be chosen on July 20th. Good Luck!
Attending this event? RSVP on Facebook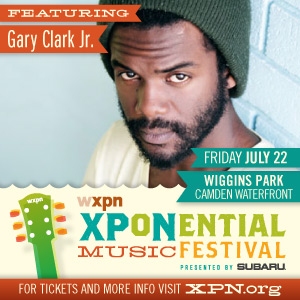 Artist confirmed to perform at the XPoNential Music Festival this year include
• Emmylou Harris
• Keb' Mo'
• Citizen Cope
• Clap Your Hands Say Yeah
• The Smithereens
• Ben Folds
• Shemekia Copeland
• Booker T.
• Joseph Arthur
• North Mississippi Allstars Duo
• Ted Leo and the Pharmacists
• Ra Ra Riot
• Hayes Carll
• Dar Williams
• For a full list and set times visit XPN.org
Special thanks to our friends at XPN 88.5
For contest rules please click here
[{"parent":{"title":"Get on the list!","body":"Get exclusive information about Gary Clark Jr. tour dates, video premieres and special announcements","field_newsletter_id":"7811414","field_label_list_id":"6518500","field_display_rates":"0","field_preview_mode":"false","field_lbox_height":null,"field_lbox_width":null,"field_toaster_timeout":"60000","field_toaster_position":"From Top","field_turnkey_height":"1000","field_mailing_list_params_toast":"&autoreply=no","field_mailing_list_params_se":"&autoreply=no"}}]